Bikram Choudhury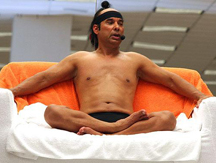 Bikram Choudhury is the founder of the worldwide Yoga College of India™. Born in Calcutta in 1946, Bikram began Yoga at the age of four with India's most-renowned physical culturist at that time, Bishnu Ghosh.

Bikram practiced Yoga at least four to six hours every day at Ghosh's College of Physical Education in Calcutta. At the age of thirteen he won the National India Yoga Championship. He was undefeated for the following three years and retired as the undisputed All-India National Yoga Champion.

At seventeen, an injury to his knee during a weight-lifting accident brought the prediction from leading European doctors that he would never walk again. Not accepting their pronouncement, he had himself carried back to Bishnu Ghosh's school, for he knew that if anyone could help to heal his knee, it was his teacher. Six months later his knee had totally recovered. Ghosh was a celebrated physical culturist and the first to scientifically document Yoga's ability to cure chronic physical ailments and heal the body.

Bikram was asked by Ghosh to start several Yoga schools in India. The schools were so successful that at Bishnu's request, Bikram traveled to Japan and opened two more. He has since brought his curative methods of Yoga therapy around the world.

In the 1990's Bikram started a teacher-training program, which grew to serve aspiring yoga teachers from both North America and abroad. Now there are hundreds of affiliated Bikram Yoga studios that bring the benefits of Bikram Yoga to millions of students around the world.

"Class felt great! If I am walking as differently as I feel, well then, am I flying?"
Read More